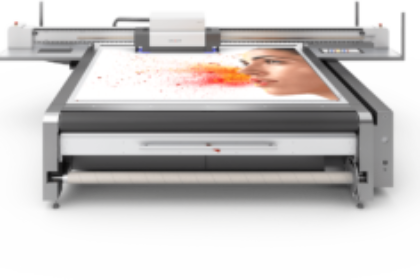 Download All Materials – Tüm İçeriği İndir
Türk baskı pazarında Pigment Reklam tarafından temsil edilen swissQprint, LED modellerine bir yenisini ekledi. Mayıs 2017'de gerçekleştiren FESPA Digital 2017 fuarında Nyala LED ve Impala LED modellerini tanıtan swissQprint, Kasım 2017'de Oryx LED modelini pazara sunmaya hazırlanıyor. Nyala LED ve Impala LED ile üst/ endüstriyel ve orta sınıf baskıcılara yeni avantajlar getiren firma, Oryx LED ile baskı işinde düşük hacimle çalışan firmaların daha fazla karlı işlere odaklanmasına yardımcı olacak.
swissQprint'in pazarda kabul görmüş modeli Oryx, rafine bir mekanik altyapı üzerinde geliştirilerek, çevre dostu ve son derece ekonomik LED teknolojisine dönüştü. Yeni Oryx LED modeli, düşük hacimlerde yüksek kalitede baskı gerçekleştiren bir baskı makinesidir. 2,5x2m flatbed baskı makinesi saatte maksimim 65 metrekare üretkenliğe sahip ve 9 adet serbestçe yapılandırılabilen renk kanalı ile tesislere yeni baskı olanakları sunuyor.
Pigment Reklam, 7-10 Aralık tarihleri arasında katılacağı FESPA Eurasia 2017 fuarında, sektörü ve ziyaretçilerini swissQprint'in yeni LED çözümleri detaylı olarak bilgilendirecek. Bu teknoloji gösterisi için şimdiden ajandanızda yer açın.
Newest Member of the swissQprint LED Family; Oryx LED
swissQprint which is represented by Pigment Reklam in Turkish Printing Market has added a new model to its LED family. After showcasing Nyala LED and Impala LED at FESPA Digital in May 2017, swissQprint is preparing to launch Oryx LED onto the market in December 2017. Nyala LED and Impala LED bring new advantages to high/industrial and middle class printers, furthermore the company aims to help firms working with low volumes in the printing business to focus on more profitable works with Oryx LED.
swissQprint's widely recognized Oryx is likewise available with a refined mechanical basis, plus LED technology that is both environmentally friendly and highly economical. The new Oryx LED is the printer for producing smallish volumes in great quality. Oryx LED features a 2.5×2 meter print bed and outputs a maximum of 65 square meters per hour with 9 freely configurable color channels presenting new print options.
Pigment Reklam will inform the market and the visitors in details about swissQprint's new LED solutions at FESPA Eurasia, between 7-10 December. Empty your calendar in advance for this technology show!