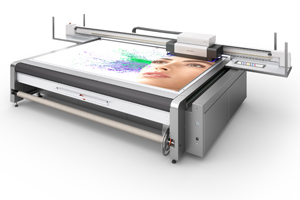 Download All Materials – Tüm İçeriği İndir
FESPA Eurasia 2017 fuarına katılacak olan Pigment Reklam, standında swissQprint'in yenilikçi çözümü Nyala LED'i ve numune baskılarını sergileyecek. Nyala LED; baskıda hız ve kaliteyi, daha düşük enerjiyle buluşturuyor.
Kendinizi yeni bir teknolojiyle tanışmaya hazırlayın. swissQprint'in Türk baskı endüstrisinde taşları yerinden oynatmaya aday Nyala LED teknolojisi FESPA Eurasia 2017'ye geliyor.  Salon 4 C50 numaradaki Pigment Reklam standında ilk kez Türk baskı pazarına tanıtılacak olan yenilikçi LED teknolojisi; ziyaretçileri performansı, verimliliği ve yarattığı katma değer ile şaşırtacak.
Ürün gamında swissQprint, bullmer ve Caldera markalarını bulunduran Pigment Reklam, dijital baskı ve reklam endüstrisi için kapsamlı çözümlere sahip. Firma bu gücünü FESPA Eurasia 2017 fuarında bir kez daha gözler önüne serecek. FESPA Eurasia fuarlarına ilk düzenlendiği günden bu yana katıldıklarını söyleyen Pigment Reklam Firma Sahibi Serkan Çağlıyan, bu yıl stant konseptlerini yenilediklerini açıkladı.
Pigment Reklam Invites You To Discover In Printing
Pigment Reklam will exhibit swissQprint's innovative solution Nyala LED and sample prints in its FESPA Eurasia 2017 booth. Nyala LED brings speed and quality together with lower energy consumption in printing.
Get ready to meet the latest technology. swissQprint's ground-breaking Nyala LED technology is coming to meet Turkish printing industry in FESPA 2017. The innovative LED technology will be launched into Turkish printing market in Pigment Reklam's booth in hall 4 C50; it will surprise the visitors with its performance, efficiency and the added value it creates.
Pigment Reklam, with a product portfolio consisting of products from swissQprint, bullmer and Caldera, provides extensive solutions to digital printing and advertising industries. The company will display its competence once more in FESPA Eurasia 2017. Taking place in FESPA Eurasia exhibitions from the day it started Pigment Reklam Owner Serkan Çağlıyan revealed renovation on their booth.