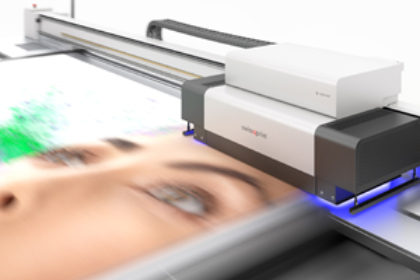 Download All Materials – Tüm İçeriği İndir
Dijital baskıda LED teknolojisini yeniden tanımlayan swissQprint; Nyala LED ve Impala LED baskı makineleriyle FESPA 2017 fuarında büyük ilgi gördü. Sağlamlık, yüksek hız ve kalite, çevre ve kullanıcı dostu özellikler bu yeniliklerle gelen avantajlardan sadece bir kaçı.
FESPA fuarı boyunca swissQprint standında ziyaretçilerle bir araya gelen ve yenilikleri tanıtan Pigment Reklam firma sahibi Serkan Çağlıyan, gördükleri ilgiden memnun olduklarını söyledi.Dijital baskıda LED kürlemeyi ileri boyutlara taşıyan Nyala LED ve Impala LED güçlü teknik altyapılara sahip. Makinelerin çok yönlü, son derece karlı ve çevre dostu olduğunu vurgulayan Serkan Çağlıyan, enerji tüketiminin ciddi ölçüde (%50) azaltıldığını kaydetti.
FESPA 2017 Witnessed The LED Revolution of swissQprint
Redefining LED technology in digital printing, swissQprint received great attention with its Nyala LED and Impala LED printing machines at FESPA 2017 global print expo. Better stability, high speed and quality as well as eco and user friendly features are just a few of the advantages that come with these innovations.
Meeting the visitors and introducing the innovations at swissQprint's booth during FESPA global print expo, Pigment Reklam company owner Serkan Çağlıyan said that they were pleased with the attention they received. Bringing curing into higher levels in digital printing, Nyala LED and Impala LED have strong technical basis. Stressing that the machnines are versatile, highly efficient and eco-friendly, Serkan Çağlıyan recorded that the energy consumption decreases greatly(50%).